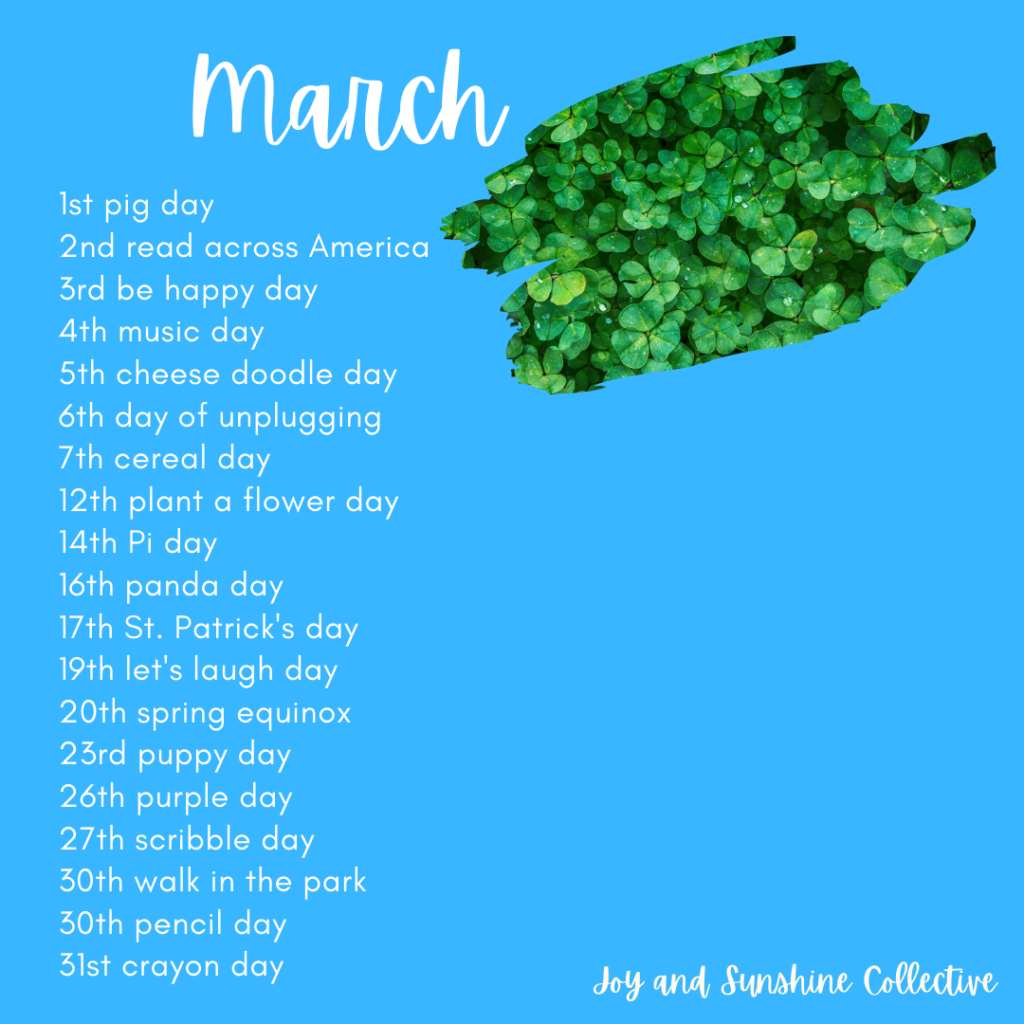 National holidays for March
Celebrating national holidays in March can be a lot of fun! March is an exciting time in the US, with patriotic celebrations and a variety of national holidays marking the start of spring. March is one of my favorite months to celebrate. I think it's because we are coming out of the hum drums of the winter. The birds are singing and the flowers are blooming. Below is a list of some ways for you to make the most of the festivities. Here are some ideas:
St. Patrick's Day (March 17th) – Dress up in green and participate in a parade or attend a St. Patrick's Day festival. You can also cook traditional Irish dishes like corned beef and cabbage or make green-themed treats like shamrock shakes.
International Women's Day (March 8th) – Celebrate the women in your life by sending them cards or flowers, organizing a special event or fundraiser for women's causes, or simply taking some time to reflect on the contributions women have made to society.
National Puppy Day (March 23rd) – If you have a furry friend, spoil them with extra treats and toys, take them on a long walk, or spend some quality time playing with them. You can also volunteer at a local animal shelter or make a donation to a pet-related charity.
National Pi Day (March 14th) – Bake a pie and share it with your friends or family. You can also host a pi-themed party or participate in a math-related activity. When my own children started middle school, it became a tradition to send in moon pies for their classmates as a way to celebrate Pi day, usually followed by a pizza pie dinner!
National Read Across America Day (March 2nd) – Set aside some time to read your favorite book or encourage others to read by donating books to a local school or library. You can also attend a literary event or participate in a book club. You can read about my read across America blog post here.
Now Let's Celebrate
No matter which holiday you choose to celebrate, remember to have fun and enjoy the festivities! To see a complete list of all the days to Celebrate in March check out www.nationaldaycalendar.com. Just choose the ones that interest your family the most, get creative, and celebrate every day!